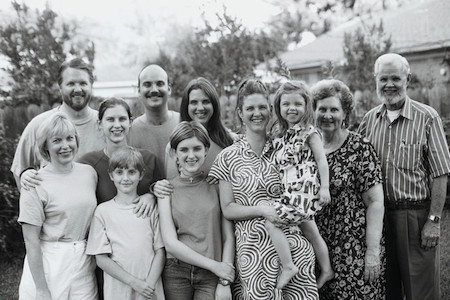 Written in loving memory of my dear friend and colleague, Dr. Richard B. Austin. As I continue my work, I can often hear his voice inside my head offering words of wisdom and encouragement.
In Sept 13th 2007,  my dear friend and colleague, Dr. Richard Austin, died from health related complications due to cancer. He was someone whom I greatly respected professionally but I also admired his unbridled passion for life. To me, Richard exemplified what it means to live a full and rich life. He was someone who faced challenge with integrity and seemed to handle problems with a gentle yet determined approach. Even though at times his health was compromised, he continued to do what he deemed most meaningful and remained a person full of generosity and deep caring. Richard was, above all else, a wonderful teacher.
His passing left me reflecting on how I have chosen to live my own life. Thoughtfully considering, if it were all taken away tomorrow, what legacy would I leave behind especially where my children were concerned?
As parents, it's easy to get caught up and sometimes completely overwhelmed by the daily grind of life. While managing schedules, helping with homework, doing the laundry and paying the bills, even the most self-enlightened parent can fall into the trap of living through the moment instead of living in the moment. When divorce related issues get thrown into the mix, for many of us, stress levels reach an all time high.
In thinking about legacies and the passing of my friend, I have been reminded of some simple yet basic ideas.
They are:
• While I cannot control what happens in my life, I can control how I react.
• Very few situations in life demand an immediate and strong reaction.
• Almost all problems can be handled with integrity, if I am willing to focus on solutions versus just the problem and the moment.
• I am a better person and a better parent when I use my children as the lens through which I live my life.
While these concepts may seem rather simplistic, next time you find yourself dealing with a difficult or stressful situation, consider giving yourself the gift of a five minute reality check and ask yourself the following questions:
• What legacy do I want to leave today?
• How will my action in this moment affect my children, one year from now…five years from now?
Whether you are someone dealing with a difficult ex-spouse, struggling with feelings of loss and guilt, stressed about financial issues, court cases or perhaps worried about how your children are handling divorce, try putting things into perspective for yourself. You may find that it gives you the breathing space you need to handle a difficult situation or issue in a way that honors you and your legacy.
Action:
Consider a problem you have been struggling with or a recent situation you feel strongly about. Spend five minutes answering the following questions. (Feel free to enlist the help of a friend if needed).
1. What legacy do I want to leave my children?
2. Devote at least five minutes to brainstorming different ways you might handle the situation or issue at hand.
3. Ask yourself which of these choices reflects the legacy you want to leave and falls in line with your highest priorities.
4. How will each of these choices impact your children?
5. Commit to a choice and make a plan to follow through.